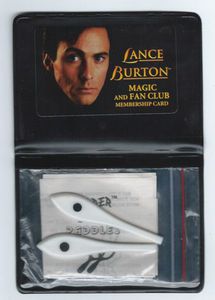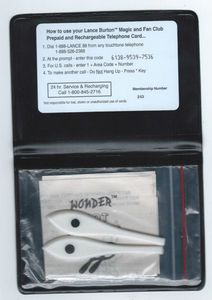 Abbott's Magic For Magicians - Secrets of Occidental and Oriental Mysteries
Percy Abbott (1934)
In Collection


#2203
10*
Conjuring
Magic tricks
Paperback 
USA 
English
Abbott, Percy: Magic for Magicians, Secrets Of Occidental And Oriental Mysteries
©1934 Abbott Magic Company, Colon, Michigan
Paper, stapled, 64 pages

Comments: Available as a reprint by Kessinger Publishing, or as part of the larger book, A Lifetime of Magic, from Abbott's Magic.

Contents:

5 Foreword
7 A Few Words from the Author


9 Finger Tip Card Production: from a palm
9 It Hasn't Started Yet: a comedy card effect
10 Mental Masterpiece: cards pass from one packet of cards to another, with a mentalism effect in the middle!
13 Double-Over Card Steal: bring selection to top of deck
14 Testing Strength: Magician magically removes selection from deck although held tightly by spectator
15 The Game of Thirty-One: a gambling game
17 Thirty Cards: cards from pocket to pocket with comedy
19 The Twitching Muscle: card revealed by a muscle twitch
20 Two to Four Ball Move: move for multiplying billard balls
20 Novel Four Ball Production: another move
21 Mouth Ball Move: a false swallow for the multiplying balls
21 The Last Ball Move: a vanish
22 Closed Fist Ball Move: another billiard ball vanish
22 Four Thimble Vanish: four thimbles placed in left hand from right hand fingertips vanish
23 Passing Thimbles: four thimbles pass one at a time from right to left hand fingertips
23 Body Load: to produce object from spectator's coat
24 Disappearing and Reappearing Coin Stand: coins vanish as removed from stand, then reappear after showing both sides
25 The Hairy Match: a "hair" pulls the end off a burnt match
26 Comedy Penetration: wand through glass illusion
26 The Repeat Candle: candle and silk trick
27 Vanish of Grains of Rice: grains of rice vanish as thrown in the air
28 An Egg Bag Move: spectator stomps on bag to show it empty
28 Chinese Pagodas: for stage
37 The Lung-Tester: red handkerchief changes to green in boy's mouth
38 Dry Wine: Wine poured into container turns to handkerchief and container is dry
39 A Novel Load: to produce a small object from a hat or newspaper
40 Wine and Water: Wine to Sherry to Water in two passes
40 Clink Coins: a second coin joins a first held by a spectator inside a handkerchief
41 Double Effect Silk Transposition: for the stage
42 Flash Cigarette: a gag with flash paper
42 Handkerchief Box: snappy production of multiple handkerchiefs
43 The Haunted House: stage illusion
45 Strait-Jacket Fake: to help get out of the jacket
45 The A.B.C. of Ventriloquism: a few basic tips provided
46 Chapeaugraphy: hat folding


46 Oriental Section
46 Chinese Double Bowl Production and Five Trays: large production from the Oriental robe
49 Chinese Bowl Effects: introduction
49 - Chinese Rice Bowls: briefly described
50 - Water Effect: Water poured from bowl to bowl, but then dry (briefly explained)
50 - Seed Bowls: overflow of seeds produced
50 - Frog to Fish Bowl: Frog turns into fish
51 - Egg to Frog Bowl: egg placed on floor is covered with bowl and lifted to reveal frog
51 Colored Powders: Any color can be removed even though powders are mixed in water
52 Single Chinese Bowl Production: a smaller variation
52 Seed Vase Vanish: seeds vanish and reappear in vase
53 Double Lighted Lamp Production: another production
53 Chinese Release: a load for a stack of bowls
53 Chinese Stack of Bowls Production: another production
55 Large Fish Bowl and Plate Production: yet another
55 Suspended Vase: vasae suspended by a cord
56 Chinese Plate Spinning: how it is done






Extras
Author autograph
Printed By
No. 21
No. of Pages
64
First Edition
Yes
Rare
Yes

Read It
No
Location
Magic Library (Home) Shelf A
Condition
Very Fine
Owner
Bryan-Keith Taylor
Percy Abbott
From MagicPedia
Percy Abbott (1886-1960)

Born May 3 in Australia, later became a U.S. citizen.
Date of Death: 26 August 1960, Colon, Michigan, USA. (heart ailment)
Co-founded the Blackstone Magic Company in Colon, Michigan with Harry Blackstone Sr. from 1929-1931.
Founded the Abbott Magic & Novelty Co. with partner Recil Bordner in 1933.
Abbott's Get-Together is held yearly in Colon, Michigan.
Publisher of TOPS Magazine.