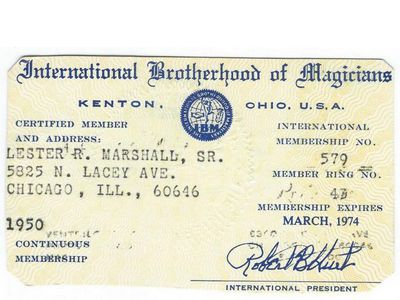 Illusion Systems Genii
Illusion Systems Publishing (1980's)
In Collection


#3538
10*
Conjuring
Illusions Plans, Magic tricks
Spiral-bound 
USA 
eng
Osborne, Paul: Illusion Systems Genii
©1980's Paul Osborne, Illusion Systems, Dallas, TX
Softcover, comb-bound, 8.5x11", 80 pages

Vintage Illusion Systems Genii book by Paul Osborne and Associates Gen II

This book presents the first in a series of illusion plans from Paul Osborne and Associates. The front cover has some wear on the right side, and the cover page has a spot where it got stuck to the cover and someone tore it apart.

Read It
No
Location
Magic Library (Home) Shelf S
Current Value
$40.00
Condition
Near Mint
Owner
Bryan-Keith Taylor
Osborne, Paul
(1948 - )
American magician and illusion designer from the age of eight. Inventor of scores of illusions, especially designed for amusement park stages. Owner of Illusion Systems in Dallas, Texas.
Wrote: Begin To Build Your Own Illusions, Volumes 1 - IV, plus over 350 Illusion Plans and descriptions and modifications.