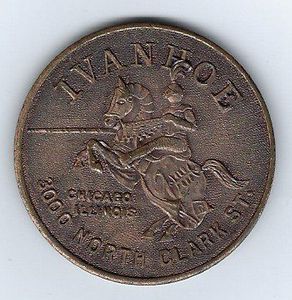 The Endless Chain - Supreme "Know-How" Series
Supreme Magic Co (1983)
In Collection


#2174
10*
Conjuring
Magic
booklet 
Great Britain 
eng
Will Ayling and Rex Taylor: The Endless Chain (Know-How Series)
©1983, 1st edition, The Supreme Magic Co. Ltd
44 pages 8.5x11" softbound



This is not a magic trick but a carnival game, a con game, where the operator can decide if you should win or not. Everything looks fair and above board, but there is simply no chance for the mark to win. It looks so innocent, a ball-chain loop, put out on the table in a figure eight. One loop in the eight catches your finger the other does not. You have to find the one that catches your finger. Only problem is that you will never find it if the operator so decides.

This game is sometimes called Loopy Loop, Figure Eight, the Chain Swindle, or Pricking the Garter. You will find in this ebook several well honed routines with patter and moves to fully control the chain.

For the prop please see our endless nickle plated ball chain, which is the ideal loop to perform this effect.

This publication was part of the Supreme 'Know-How' Series, edited and written by Will Ayling. It was the follow up to the famous Teach-In Series written by Lewis Ganson after Ganson died.

1st edition 1983; original 44 pages.

If you are just as captivated by this swindle as we are, then you might want to seek out other information on the endless chain:
•Loopy Loop by George Blake, 1949, 23 pages.
•Chain-Trickery by P. Cinimod, 1978, 6 pages.
•Chain Station by P. Cinimod.
•The Chain Gang by Mark DeSouza, 2000, (45 min) VHS.
•Johnny Thompson does the George Blake version of the endless chain on volume 2 of his Commercial Classics of Magic released by L&L Publishing.


No. of Pages
44
First Edition
Yes

Read It
No
Location
Magic Library (Home) Shelf A
Condition
Near Mint
Owner
Bryan-Keith Taylor