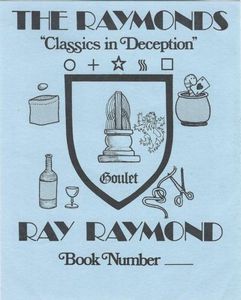 101 Amazing Magic Tricks with a Svengali Deck
Fun Incorporated (2000)
In Collection


#3087
10*
Conjuring
Card tricks
booklet 
USA 
eng
Hayes, Lisa L.: 101 Amazing Magic Tricks with a Svengali Deck
©2000 Fun Incorporated
booklet, 32 pages

This terrific bok teaches you 101 spectacular magic tricks using one of the most ingenious magical tools ever devised -- The Svengali Deck. You'll learn how to use the special secret of The Svengali Deck to perform incredible feats which make you look like a professional sleight-of-hand artist in just minutes!

You will learn to

* Determine which card has been removed by simply feeling through the deck!
* Change all the cards in the deck to match the selected card - then magically they change back to normal!
* Cause the spectator to pull the same card from the deck time after time!
* Transport the selected card from the deck to the inside of an inflated balloon!
* Make the selected card rise and dance across the table!
* Telepathically absorb the name of the card selected mentally by the spectator!






Read It
No
Location
Magic Library (Home) Shelf L
Condition
Mint
Owner
Bryan-Keith Taylor