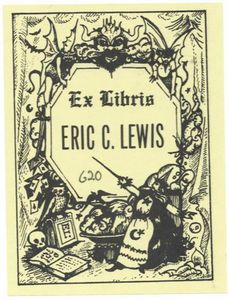 Great Ovette's Tricks and Illusionettes
D. Robbins & Company (1982)
In Collection


#3553
10*
Conjuring
Magic tricks
Paperback 
Ovette, The Great: Ovette's Tricks and Illusionettes
©1944 Ovette, published by Samuel Berland
©1982 D. Robbins & Co., Inc.
Paperback, 32 pages

No. of Pages
32
First Edition
Yes

Read It
No
Location
Magic Library (Home) Shelf S
Condition
Very Fine
Owner
Bryan-Keith Taylor
Comments: "Being a Collection of Easily Built Tricks and Small Illusions". Illustrated by Thomas M. Libonati.

Contents:

2 Contents
3 The Great Ovette: short biography
4 A Novel Opening Number: Dove and Rabbit production from bowls
6 The Waterless Tube: a can is filled with water, but a ribbon pours out and baby chicks are produced
9 Magic Bunny Rings: three rings are placed on a tray and covered with another tray. Top tray is removed, and a rabbit appears.
10 The Oriental Bead Rack: tool to force a color
12 The Oriental Tube: confetti to rabbit illusion
14 Stack of Fish Bowls: inexpensive bowl production
16 Bunny Production Box: how to build it
17 The Traveling Silks: silks travel from one paper bag to another
20 On Again Off Again: follow up with four silks
23 Bird and Cage: dove vanishes from newspaper and appears in box
25 The Vanishing Lamp: lamp vanishes under a cloth
27 Bird and Cage Illusion: Canary and silk transpose
29 Candle and Fan: fan vanishes and a candle has changed into the fan
31 Catalogue of Selected Magic Books: advertisement




-------------------------------------------------------------------------------------------------------------------

Ovette, Joseph
(1885-1946)
Italian-born stage magician who gained fame as vaudeville's The Great Ovette (real name Giuseppi Olivio). In later years, he performed in Oriental costume as "Lung Tchang Yuen", staying in character even after performances, in the style of Chung Ling Soo.
Invented the Ovette Master Move (1927) (later reinvented as the "Kelly Bottom Placement") and Ovette's Chinese Tea Chest.
Wrote : Practical Telephathy (1924), Publicity Miracles (1928), Silk Creations (1931), Fast Ones (1940), Tricks and Illusionettes (1944).