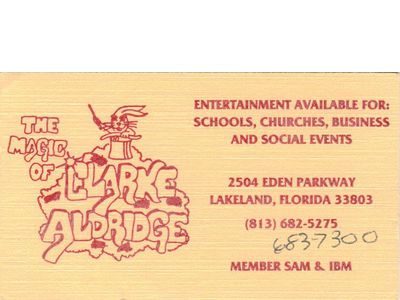 Magical Hints, Valuable Information, Etc.
Will Goldston Ltd
In Collection


#3006
10*
Conjuring
Magic tricks
Hardcover 
Great Britain 
eng
Goldston, Will: Magical Hints, Valuable Information, Etc.
© Will Goldston Ltd
Hardcover, 96 pages

Programes, Ventriloquial, Dialogues, Juggling, Cartooning, Paper Folding, Care Of Animals And Birds, Etc.,

Read It
No
Location
Magic Library (Home) Shelf J
Condition
Good
Owner
Bryan-Keith Taylor
Goldston,Will
(1878-1948)

Born in Liverpool, England as Wolf Goldstone. Inspired at the age 11 or 12 by a box of tricks, he began learning magic. He also learned from visits with Prof. Alexander in 1892, and from reading Hoffmann's Modern Magic. His first publ;ic performance was at age 20, in 1898, as 'Carl Devo' c1898-1907, initially with a Black Art show.
He managed the Conjuring, Theatrical, and Entertainment Departments at Gamage's 1905-14. Founded The Magicians' Club in 1911, serving as Treasurer throughout ,but running it as a one-man self-serving club, until it passed into limbo in WW II. He was the owner-manager of Aladdin House (Will Goldston Ltd) 1914-48 in London. He compiled and edited the Magician's Annual magazine from 1908 to 1916. Wrote: Tricks of the Masters and Will Goldstons Exclusive Magical Secrets.