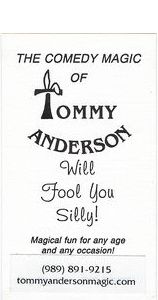 The Buckley Trilogy, Card Control
Las Vegas, Gamblers Book Club (1973)
In Collection


#2571
10*
Conjuring
Gambling, Magic
Paperback 911996-39-9
USA 
eng
Buckley, Arthur & John Brown Cook: Gems of Mental Magic
©1947, Chicago
Hardcover, 132 pages
The Buckley Trilogy Gems of Mental Magic
©1973 The Gambler's Book Club
Softcover, 132 pages

Image courtesy Bryan-Keith Taylor
Comments: Later printed as part of the Buckley Trilogy, along with the books Principles and Deceptions, and Card Control.
Note: also available as an e-book from both Lybrary.com and Trickshop.com

Contents:

1 Preface
5 Devious Digits
9 It's A Small World
12 Astral Addition
15 Projection
18 Pennies, Nickels and Dimes
21 Memory Plus Miracles
27 Psychic Vision
29 Psychometry
32 Date Divination
35 Baseball Prophecy
38 Tests In A Gold Fish Bowl
41 A Chance in A Billion
44 New Bills For Old
46 The Telepathic Band Leader
49 Dictionary Test
54 Second Sight At First Glance
57 As Far As You Like
59 The Crystal Ball
62 Astrological Mentalism
66 Behind The Eight Ball
69 The Crime Doctor
71 Gaze Into My Eyes
74 The Spirit 74
77 Telepathy With Your Favorite Stars
80 Birthday Telepathy
83 The Great Book Test
90 The Open Window
92 Written Messages
94 Better Than Rabbits
96 Holding The Bag
98 Impressions That Stick
101 No Privacy In A Gold Fish Bowl
107 The Answering Of Questions



Truly an advanced course on card magic, and card manipulations, with contibutions by such masters as Dai Vernon and Richard Cardini, and with card sleights used in cheating at cards. Considered the best book on gamblers technique since Erdnase! With a six page nomenclature of card terminology, supplemented by forty original card experiments, profusly illustrated with photographs. Ranked as one of the top Card Magic books along with works by Huguard, Downs, LePaul, and Dai Vernon! A combination of these Card Magic books cannot be beaten!

Another intriguing collectible from the personal library of entertainer and bibliophile, Jay Marshall.




Read It
No
Location
Magic Library (Home) Shelf D
Condition
Very Fine
Owner
Bryan-Keith Taylor