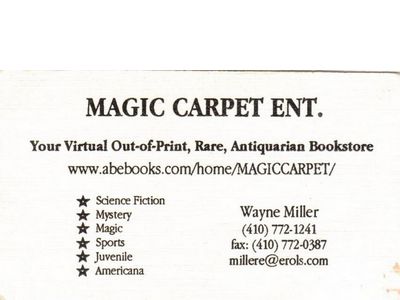 Bound Conjurors Magazine Vol. 1 - Owned by Dell O' Dell
In Collection


#2915
10*
Conjuring
Magic tricks
Hardcover 
USA 
eng
Bound Conjurors Magazine Vol. 1

Here is volume 1 number 1 through number 12 of the Conjurers' magazine. It has been beautifully bound by and was the personal possession of Dell O' Dell. It could be argued that Dell O' DELL was the most famous American female magician in history. So here is a great magazine but more importantly a momento of one of the greats of our time. It is in wonderful condition.

Complete bound volume one and two of the conjurors' magazine edited by walter gibson. The conj.rors' magazine does not boast that it is an independent magazine for magiciains. It proves it by printing lal the magic news impartially, supporting that which it believes to be right and opposing what it believes to be wrong. Regardless of 'politics' which it firmly believes has no place in magic! Issues featured contributions from houdini, cardini, gibson, blackstone, hardeen, jones, chung ling soo, dai vernon, ovette, and many others!

Volume one includes issues 1-12, published from february 1945 through january 1946. Vloume two includes issues 1-12, published from march 1946 through february 1947. Issues are profusely illustrated throughout.

Read It
No
Location
Magic Library (Home) Shelf I
Condition
Very Fine
Owner
Bryan-Keith Taylor
Born Nell Newton (1902-1962) in the United States, Dell O'Dell was a successful female magician and wife of Charles Carrer, a famous juggler.

O'Dell, Dell
(1902-1962)
One of the most successful female magicians of the 20th Century. American born, real name Nell Newton. Learned magic from her father, a carnival magician. Specialized in snappy and cute rhyming patter, and lots of promotional material. Husband Charles Carrer, a famous juggler, managed her show and constructed her trademark clever and special props. Her local television show (California) in the early 1950's was one of the first regularly broadcast magic programs.