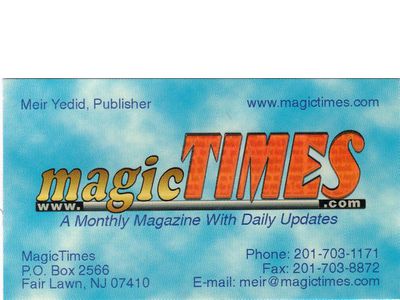 A Magicians Tour Revisited
Phil Temple (2000)
In Collection


#3830
10*
Conjuring
Magician - Biography
Hardcover 
USA 
eng
Temple, Phil: Kellar - A Magician's Tour - Revisited
© 2000 Phil Temple
Hardcover, w/dj, 226 pages

Comments:

Contents (from book ToC):

iv Acknowledgments
ix Preface

1 Chapter I Start In Life
9 Chapter II The Bull Fight
15 Chapter III Triumphal Tour Through Mexico
21 Chapter IV In The Role Of Prophet
25 Chapter V Through South America
31 Chapter VI Around The Horn
35 Chapter VII Ship Wreck And Reverses
41 Chapter VIII First Bow In The Colonies
47 Chapter IX Dining With The Maharajah
51 Chapter X Boar Hunt In Java
57 Chapter XI The City Of Shanghai
61 Chapter XII At The Court Of Ava
65 Chapter XIII The Spiritualist Excitement
73 Chapter XIV In The Punjaub
77 Chapter XV In Bombay
79 Chapter XVI The Jugglers Of India
83 Posters
105 Chapter XVII In Africa
111 Chapter XVIII Hard Luck Times
117 Chapter XIX Before Her Majesty
123 Chapter XX Kimberly Diamond Fields
125 Chapter XXI Substitute For Jails
131 Chapter XXII Chinese Gordon
141 Chapter XXIII Among The Kangaroos
147 Chapter XXIV "Johnny Newsky"'
151 Chapter XXV The Elephant Hunt
157 Chapter XXVI In New York and Philadelphia
165 Chapter XXVII Kellar and Spiritualism
169 Chapter XXVIII At His Old Home
171 Kellar's Tour From The States
177 Chapter XXIX A Legend In The Making
193 Chapter XXX Kellar Chooses a Successor
203 Chapter XXXI The Golden Years
222 "A Magicians Tour" - Variants
224 Bibliography
225 Poster Listing and Credits

A Magician's Tour Revisited

Temple, Phil, with Robert E. Olsen., 2000. 226 pages, photo's, etchings, stories, biographical information. The cover is graced with a very old cameo of Kellar as a young man.

A Magician's Tour Revisited Published by Phil Temple. A biography of Harry Kellar. 226 pages. 18 in full color. Hard bound in like new condition with dust jacket. Also included is a reproduction from the original "1903" Kellar's Wonder Book.

No. of Pages
226
First Edition
Yes

Read It
No
Location
Magic Library (Home) Shelf Top
Condition
Near Mint
Owner
Bryan-Keith Taylor