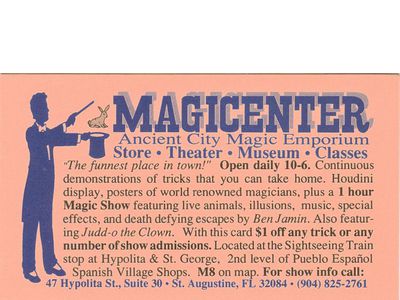 Conjuring
 (1972)
In Collection


#3075
10*
Conjuring
Magic tricks
Hardcover 978-0571095919
eng
Hawkesworth, Eric: Conjuring
©1972 Faber & Faber
ISBN-13: 9780571095919
ISBN-10: 0571095917
Edition: First Edition
Hardcover, 86
Language: English
Dimensions: 10 x 7 x 1 inches

Eric Hawkesworth wrote several books about magic and this is one of them, using skill rather than costly apparatus, the kind anyone can do - quite a party piece. The main sections are on Mind Reading, Picture Magic, Conjuring with Letters & Numbers, The Magic of Escape, and The Stage Illusionist. The book has 86 pages and is illustrated, and was published by Faber & Faber of London. The unclipped dustwrapper is in quite good condition. The book has no inscription and is all sound inside.

This is a great collection of magic for any stand-up performer. You'll learn productions, cards, mentalism and so much more! With so many different types of magic, you're virtually guaranteed to find something you like.



No. of Pages
86
First Edition
Yes

Read It
No
Location
Magic Library (Home) Shelf K
Condition
Very Fine
Owner
Bryan-Keith Taylor