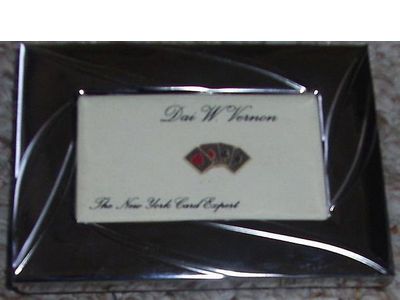 Amedeo's Continental Magic - Explained Step by Step by America's Foremost Authority on Close Up Magic
Million Dollar Productions  (1974)
In Collection


#2905
10*
Conjuring
Magic tricks, Magician - Biography
Spiral-bound 
USA 
English
Garcia, Frank & George Schindler: Amedeo's Continental Magic
©1974 Frank Garcia & George Schindler, Million Dollar Productions, NY
Softcover, spiral-bound, 115 pages
Amedeo's Continental Magic

Abebook price 40.00

CONDITION: VERY GOOD/ FINE (ALL IS WELL, EXCEPT THAT THE TOP OF THE SPINE HAS ABOUT A 3" SLIT IN IT)

Comments: This book is a tribute to a great vaudeville artist and a living legend in magic, AMEDEO VACCA.

Contents:

7 Forward
10 Introduction

18 Parlor And Stage Magic
18 Flash Teatro
19 Red Ashes
20 End Of A Nightmare
25 Parisian Silk Penetration
28 Lebanese Ribbon

29 Paddles
29 European Paddle
30 Pinch Of Salt

32 Close-Up Effects
32 A Hole In One
33 Flash-X
35 Pea-Can Steal
36 Coffee Break
37 Button-Button
38 Gloves From The Orient

41 Dice And Chips
41 Monte Carlo Chips
42 Egyptian Dice Puzzle
43 Balancing Dice Puzzle
44 Never Say Die
46 Matchbox Prediction

47 Acrobatic Matchbox

53 Sponges
53 Knockout Sponge Vanish
53 Spongeball "Split"

55 Rings, Pins and Needles
55 Pin-Tration
57 Pin-Up Time
60 Lend Me Your Ring
62 Ring and String Routine
64 Close-Up Needle Mystery

66 Photo Album

79 Coins and Money
79 Catching a Coin
80 Single Coin Production
81 Cinquevalli Coins
83 Lightning Coin Vanish
85 Penetrating Copper
88 Pin-Coin
89 Han Pin Chien Remembered
90 I Owe You
91 Five to One
93 The Lira Swindle
93 Budapest Switch

95 Cigarettes
95 Sink or Swim
96 Cigarette from the Pocket
97 Impromptu Dummy
98 Something from Nothing
99 Roll Your Own
100 Instant Cigarette
101 Another Instant Cigarette
102 Back-Clip Cigarette Butt Acquitment
105 Molto Bene Cigarette Vanish
108 One More Time

111 The Human Volcano
111 Smoke from the Mouth
113 Amedeo's Method and Presentation

115 Magician's Recipe
Abebook price 40.00

==============================================
CONDITION: VERY GOOD/ FINE (ALL IS WELL, EXCEPT THAT THE TOP OF THE SPINE HAS ABOUT A 3" SLIT IN IT)



Dewey
793.8
No. of Pages
224
First Edition
Yes
Rare
Yes

Read It
No
Location
Magic Library (Home) Shelf H
Condition
Very Fine
Owner
Bryan-Keith Taylor
AMEDEO VACCA was perhaps best known in magic circles as having been "HOUDINI'S advance man"; the chap who would make arrangements for the great escape artist and magician prior to his arrival at theatres, making sure the logistics and the props were well co-ordinated. But he was much more than that. They met at a magic shop in 1921, where HOUDINI first impressed him, and then he impressed HOUDINI by refining a trick he had shown him--straight away!

A few years later, VACCA began collaborating with HOUDINI on a number of illusions, most notably his "Submerged Coffin". VACCA would attend the performance of his "creation", assisting HOUDINI in a critical way--but the star of the show didn't want anyone to make the connection between the two of them, lest the secret be revealed; so he insisted that they not be seen in public together. VACCA'S 'day job' was at a barber shop and that's where the two men discussed business: on either side of a barber's chair!

"VACCA" as he was known during his early career as a magician, gained a good deal of fame from his performance of HOUDINI'S "Needle Trick" after his mentor passed on. Still later (then known as "AMEDEO"), he was reputed for his "Smoke from Mouth Trick", in which he swallowed lighted cigarettes and blew smoke from his lips. ROBERT RIPLEY personally insisted that he perform the effect several times, before styling him "THE HUMAN VOLCANO" and depicting him in his "BELIEVE IT...OR NOT!" series in 1947. The routine is included in this volume, along with 46 others.

The book was designed to open out and lie flat whilst the practitioner studied his craft.