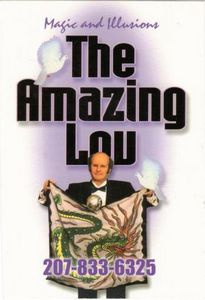 Prepare To Be Amazed: The Geniuses Of Modern Magic
Annick Press (2005)
In Collection


#3691
10*
Conjuring
Magic tricks, Magician - Biography
Paperback 9781550379266
Schendlinger, Mary: Prepare To Be Amazed: The Geniuses Of Modern Magic
©2005 Annick Pressr
Softcover, 80 pages
ISBN-13: 9781550379266
ISBN-10: 1550379267

The story of modern magic through the lives of recent history's most gifted magicians While the art of magic may be as old as human beings, its golden age arrived in the mid-1800s when Jean Eugène Robert-Houdin performed onstage in a tailored evening suit and tidy haircut. The image of magicians was forever transformed. Houdin was famous for his thrilling act of Second Sight, where his blindfolded son would identify articles held up by the audience. Other artists had their own specialties: Adelaide Herrmann, first woman to run her own magic show, brought the fun and flash of show business Chung Ling Soo, an American who led a double life as a dazzling Chinese conjuror The Great Lafayette, a flamboyant quick-change artist P.C. Sorcar revived the ancient traditions of his native India Harry Blackstone performed small magic -- simple tricks by sleight of hand Doug Henning revived the popularity of modern magic Siegfried and Roy combined special-effects technology with natural magic David Copperfield uses cutting-edge technology to create powerful stage illusions. After each magician's story, kids will find great tricks they can learn, and they'll love the full-color reproductions of theatrical posters and photographs that capture all the excitement.

Dewey
793.8092
No. of Pages
80

Read It
No
Location
Magic Library (Home) Shelf T
Condition
Near Mint
Owner
Bryan-Keith Taylor