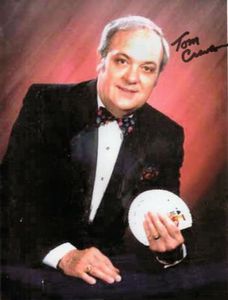 Tom Craven
 (1970)
In Collection


#1006
10*
Conjuring
Magician
Photograph 
"Tom Craven", Signed 8x10

Read It
No
Location
Magic Library (Home)
Condition
Mint
Owner
Bryan-Keith Taylor
Tom Craven (magician)

Tom Craven goes out on a lecture tour from time to time and occasionally appears at magic conventions. Tom sat down with me recently for a podcast when he lectured in Houston, That podcast appears here on The Magic Word on November 16, 2011. But for those of you who may not know Tom, here are a few highlights from his (almost) 50 years in magic.
• First person to receive the "Spirit Of Magi-Fest" Award, Columbus Ohio
• One of only two people to have attended all 41 of the Fechter's Finger Flicking Frolic (F.F.F.F.) Conventions
•Guest Of Honor F.F.F.F. in 1987
•10 time winner of the IBM Ring #2 "Magician Of The Year"
•Trade Show Worker Full Time, 1977-1984
•Worked the Close-Up Gallery at the Magic Castle 1981, 1985, 1989, 2009, 2010
•Worked the Parlor at the Magic Castle 2011

Tom has been a magician for nearly 50 years. Hence the title of his new book. He has performed a number of times at the famous Hollywood Magic Castle. He has taught magic at Akron University, Polk Community College and Maplewood Joint Vocational School. He has written numerous articles for magic magazines and even has his own monthly column in The Linking Ring (the International Brotherhood of Magicians monthly magazine). Tom also lectures all over the United States and Canada to the magic fraternity and is one of four people who have attended every one of the 41 Fechter's Finger Flicking Frolic close-up conventions where he was once the Guest of Honor. Tom is a very good close-up performer and works well in any corporate event.