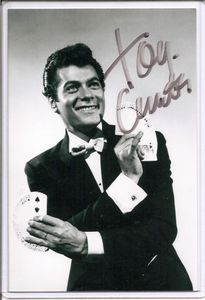 Tony Curtis - As Houdini
In Collection


#934
10*
Conjuring
Actor
Photograph 
Tony Curtis Houdini Autograph Signed 4x6 Photo

This is an authentically autographed photograph boldly signed in person by the above mentioned star.
Tony Curtis (born June 3, 1925) is an American film actor. He is best known for light comic roles.

Read It
No
Location
Magic Library (Home)
Condition
Mint
Owner
Bryan-Keith Taylor
Houdini (film)
From Wikipedia, the free encyclopedia

Houdini

Original film poster
Directed by George Marshall
Produced by George Pal
Written by Philip Yordan
Harold Kellock(book)
Starring Tony Curtis
Janet Leigh
Torin Thatcher
Music by Roy Webb
Cinematography Albert Nozaki
Hal Pereira
Editing by George Tomasini
Distributed by Paramount Pictures
Release date(s) 2 July 1953
Running time 106 min
Country USA
Language English
IMDb profile

Houdini is a 1953 biographical film about the life of the magician and escapologist Harry Houdini. It was made by Paramount Pictures, directed by George Marshall and produced by George Pal from a screenplay by Philip Yordan, based on the book Houdini by Harold Kellock. The music score was by Roy Webb and the cinematography by Ernest Laszlo. The art direction was by Albert Nozaki and Hal Pereira and the costume design by Edith Head.

Synopsis
The film details a highly fictional account of Harry Houdini's life. The film follows his most dangerous stunts and magic tricks along with his love Bess Houdini.

The death of the magician is depicted in the film as a failure to escape the Chinese Water Torture Cell; in real life Houdini died of peritonitis due to being punched in the stomach.