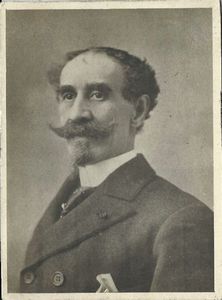 Herrmann the Great
In Collection


#1073
10*
Conjuring
Magician
Photograph 
Magician-Herrmann the Great-small photo-Age Unknown-v.FINE-Oh

Small photo of noted magician Herrmann the Great. This is the same image that appears on the Magicpedia site with his biography. No idea of how old this is. When moved around in the light, the emulsion on the photo's dark areas reflect back quite differently than seen on modern photos. It could be an early photo, but no way to be sure. It is glued down to a piece of mat board. I assume it is not old, but may find that it is old,

DATE: Unknown. Could be old, or a more recent copy of an old photo.
SIZE: 4 3/4 by 6 3/8 inches.
COND: Minor use marks.. All in otherwise very Fine.

Read It
No
Location
Magic Library (Home)
Condition
Very Fine
Owner
Bryan-Keith Taylor
Alexander Herrmann

From Magicpedia, courtesy of Genii Magazine:

Alexander Herrmann (1844-1896) was a French magician, better known as "The Great Herrmann" and "Herrmann the Great" and was part of the Herrmann family name which has been called "first-family of magic". Herrmann was born in Paris to Samuel and Anna Sarah Herrmann, a physician who occasionally performed throughout Europe as a conjuror. Alexander's brother Compars Herrmann left medical school at an early age to pursue a career as a magician and served as a role model and inspiration for Alexander.

He joined his brother's stage show at the age of eight and the brothers toured the world together. Eventually they would go their separate ways, Compars returning to Europe and Alexander to America where he became a naturalized citizen in July 1876 in Boston. Throughout the 1870s and 1880s, Alexander and his wife Adelaide Herrmann performed together in elaborate stage shows. The pair adapted Robert Houdin's Aerial Suspension routine and performed their own version of the bullet catch. After his death, his nephew Leon Herrmann moved to the U.S. to continue the act with his Aunt Adelaide. Herrmann was one of the few magicians that actually produced a rabbit from a hat.