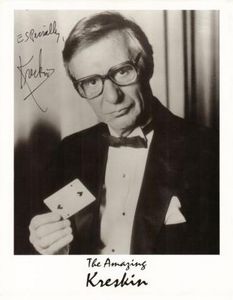 The Amazing Kreskin
In Collection


#1120
10*
Conjuring
Magician / Mentalist
Photograph 
Kreskin Signed Photograph
8" X 10"
(2nd of 2)

Read It
No
Location
Magic Library (Home)
Condition
Near Mint
Owner
Bryan-Keith Taylor
Kreskin

George Joseph Kresge, Jr. (born January 12, 1935), better known as The Amazing Kreskin, is a mentalist who became popular on North American television in the 1970s. He was inspired by Lee Falk's famous comic strip Mandrake the Magician, which features a crime-fighting stage magician, to become a mentalist himself.

George was born in Montclair, New Jersey. From 1971 to 1975, his television series The Amazing World of Kreskin was broadcast throughout Canada on CTV and distributed in syndication in the United States. The series was produced in Ottawa, Ontario at the CJOH-TV studios. An additional set of episodes was produced in 1975, billed as The New Kreskin Show.

In the 1980s and 1990s, he came to prominence again through several appearances on Late Night with David Letterman.

He is still active as a live performer, and appears annually on CNN to give his New Year's Day predictions for the coming year.[1] One of his best known tricks is finding his check for a performance, which he instructs his hosts to hide before each show. He has failed to find the check nine times. Kreskin has acknowledged that he has no paranormal powers, however Kreskin's name has become somewhat synonymous with psychic prediction.