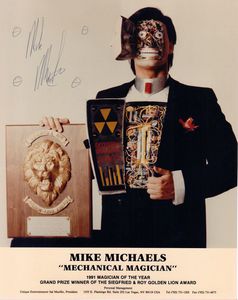 Mike Michaels
In Collection


#1145
10*
Conjuring
Magician
Photograph 
Mike Michaels Signed Photograph

8" X 10"

Read It
No
Location
Magic Library (Home)
Condition
Near Mint
Owner
Bryan-Keith Taylor
Creator, builder, performer, Mike Michaels continues his world-wide success and acclaim as he astounds audiences with the world's only Mechanical Magician.

In a performance which combines his robotic movements, state of the art mechanical electronics, and a staggering bombardment of cartoon sound effects, he creates the unusual imagery of a Living Robotic Magician. Mike spent over 5000 hours of research and development to update his original, award-wining act. Mike's body blows up revealing his moving robotic skeleton, creating the world's most original display of special effects and magic, live on stage.

This specialty act is valued at over half million dollars.