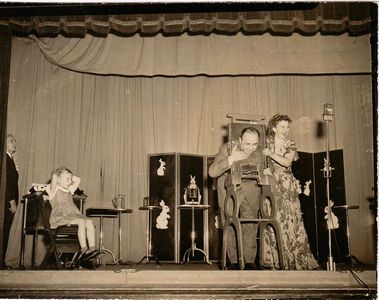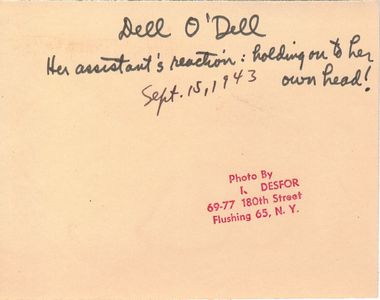 Dell O'Dell
In Collection


#1160
10*
Conjuring
Magician
Photograph 
*Magician Dell O'Dell photo of stage show FINE *

ITEM: photo was taken by noted Magic Photographer Irving Desfor, at a show dated September 15, 1943. All borders are trimmed. She has a man in the head chopper and has just made the cut. A little girl sits to the left, holding onto to her own head. A close-up of this photo, with just Dell O'Dell and the Chopper, and the man was used on one of her brochures.


SIZE: Image size of photos is 3 3/4 by 4 7/8 inches.
CONDITION: Very Fine almost MINT condition

Read It
No
Location
Magic Library (Home)
Condition
Mint
Owner
Bryan-Keith Taylor
Dell O'Dell

Dell O'Dell was the stage name of Nell Newton (20 Oct 1902 - 5 Feb 1962) an American magician regarded in her profession as a pioneer who provided a role model for modern female performers and noted for being one of the first magicians to appear on television. At the height of her career she was billed as "The World's Leading Lady Magician" and "The Queen of Magic."

Nell Newton's father worked in carnivals and she began learning magic from him when she was young. She developed a style that featured snappy patter and cute rhymes, which became something of a trademark. She married Charles Carrer, a famous juggler, who managed her show and constructed props for her.

She became a pioneer of television magic when The Dell O'Dell Show began transmission on a local station in the Los Angeles area in California on 14 September 1951. She thus pre-dated several other noted pioneers of television magic, such as Mark Wilson, whose first television show began in 1955, and Richiardi Jr who made the first of his record run of appearances on the Ed Sullivan Show in 1956.

O'Dell wrote extensively on the subject of magic. She contributed a column titled "Dell-lightfully" for the magicians' magazine The Linking Ring. She also produced a number of books of tricks and performance routines, including Presenting Magical Moments (1939) and On Both Sides of the Footlights (1946). Her "Stamp Album" presentation was published in volume 4 of the Tarbell Course in Magic.