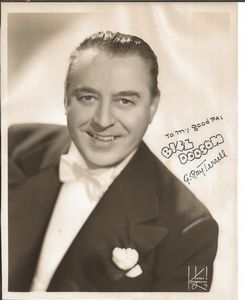 G. Ray Terrell
In Collection


#1231
10*
Conjuring
Magician
Photograph 
"G. Ray Terrell", The Debonaire Deceptionist... undated c1940's...

It Complete and Intact as photographed by "James J. Kreigmann, N.Y."...
No age/handling related Wear or Any damage noted...




Read It
No
Location
Magic Library (Home)
Condition
Mint
Owner
Bryan-Keith Taylor
From MagicPedia, the free online encyclopedia for magicians by magicians.

G. Ray Terrell
Born: circa 1895

Died:
February 18, 1972 (age 76)
Williamstown, Massachusetts

G. Ray Terrell was known as the "The Debonaire Deceptionist".

A member of the IBM and SAM, Terrell had started in magic at age 14. He became a professional magician in 1942 and performed throughout the United States at hotels and theaters.

In 1945 he gave a "command" performance for President Harry S. Truman in the White House. He also gave a similar performance for the then General Dwight D. Eisenhower who had just returned from Europe after WW II. Terrell and his family moved to St. Petersburg, Florida in 1958, and to Vermont in 1968.

He passed away following a performance at the "Winter Carnival" at Williams College in Williamstown, Massachusetts. For five months the Terrells played U.S.O. Camp Shows.