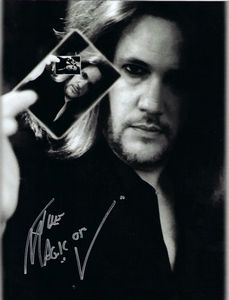 (The Magic of) V
 (2019)
In Collection


#1242
10*
Conjuring
Magician
Photograph 
(The Magic of) V -2019

photograph of Magician V.

FRONT: One has a head photo of V
BACK: Blank back.
DATE: 2019
SIZE: 8.5 x11
COND: Mint condition.

Read It
Yes
Location
Magic Library (Home)
Condition
Very Fine
Owner
Bryan-Keith Taylor
Loves theater, music, comedy, movies, pop culture, and I want to make that all part of the show.

I want people to see magic as something profound and special, as well as fun. It's not "just for kids", and it's not only about "fooling" someone.
​
Most of the public experiences this art-form through a screen, and then usually through the editing of a reality show. That means you never really have a fair chance of experiencing it on a personal level. I believe I strive to make what I do FEEL like a camera trick, but done right in front of you.