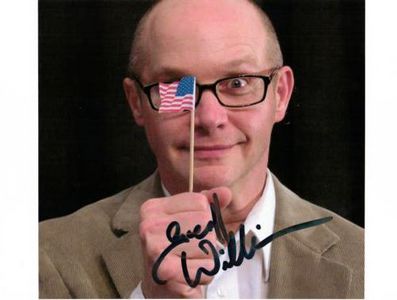 Geoff Williams
In Collection


#1249
10*
Conjuring
Magician
Photograph 
Magician Geoff Williams

The Comedy Illusions of Geoff Williams
Cutting-edge sleight-of-hand mixed with hilarious comedy!

Some of Geoff's two dozen awards include:


-- THREE TIMES voted "Magician of the Year" for the state of Minnesota by the International Brotherhood of Magicians
-- FIRST PLACE wins in Stage, Close-Up (twice) and Comedy (twice) categories at the annual Houdini Magic Convention
-- FIRST PLACE wins in Stage (3 times) and Close-Up (5 times) in regional Minnesota state magic competitions
-- A Past President of International Brotherhood of Magicians Ring #19 (Minneapolis/St. Paul, MN) and Society of American Magicians Assembly #136 (Tucson, AZ).

Read It
No
Location
Magic Library (Home)
Condition
Mint
Owner
Bryan-Keith Taylor
ABOUT GEOFF

A three-time "Magician of the Year" through the International Brotherhood of Magicians, Geoff is a full-time professional entertainer who has won over two dozen comedy and magic awards over his 30-year career. He's performed and lectured in over 18 countries and throughout most of the U.S., wrote "Top Ten Lists" for "The Late Show with David Letterman" and is a performing member of the world-famous Magic Castle in Hollywood.

This means Geoff is the PERFECT CHOICE to add hilarious, astounding and MEMORABLE entertainment to your next event.

Geoff is known for cutting-edge sleight of hand illusions mixed with an offbeat, zany sense of humor. His stage show is filled with unforgettable illusions and stunts - from shooting a signed card out of the air with a dart gun to swallowing an inflated balloon WHOLE. He'll even make his head VISUALLY EXPAND and SHRINK right before your eyes (with NO COVERING whatsoever)!

Your guests will be talking about Geoff's act for a LONG time afterward!

His magic shows are high energy, family-friendly and suitable for all ages (no off-color material). With lots of audience interaction, this act plays very big without having to rely on bulky, "suspicious-looking box" tricks.

Geoff also specializes in close-up, strolling illusions (some which happen right in the spectators' hands). Geoff is one of the elite members of the ultra-exclusive 4F Convention, a "by invitation ONLY" gathering of some of the planet's best and most-respected magicians. This makes Geoff the PERFECT choice for fun, memorable entertainment for more intimate gatherings such as cocktail parties and in-home celebrations.

Geoff is a Past President of International Brotherhood of Magicians Ring #19 (Minneapolis/St. Paul, MN) and Society of American Magicians Assembly #136 (Tucson, AZ).



CLIENTS INCLUDE

-- Tampa Bay Rays
-- Chi Chi Rodriguez Foundation
-- Raymond James Financial
-- Gulf Harbour Yacht & Country Club
-- Hillsborough County Bar Association
-- Pinellas Park/Gateway Chamber of Commerce
-- Walt Disney Parks and Resorts management
-- The Don CeSar Beach Resort
-- Lakewood High School
-- American Cancer Society
-- The Spine Foundation
-- Big Brothers/Big Sisters
-- Captiva Cay Homeowners Association
-- Bay Island Condominiums
-- The Club at Treasure Island/Bill Edwards Presents
-- The City of Seminole
-- Infinity Financial
-- South Daytona Chamber of Commerce
-- Congregation Schaarai Zedek
-- Boys and Girls Clubs of America
-- Dolphin Landings Charter Boat Center
-- Girls Incorporated of Pinellas
-- Chabad Jewish Center of St. Petersburg
-- 3M
-- American Express
-- Cargill Corporate IT
-- Coca Cola Bottling Company
-- Maccabee Group Public Relations
-- Dakota County Community Services
-- Allina Health Systems
-- Honeywell
-- Sun Country Cleaners
-- Tousley Motor Sports
-- Farmer's Insurance Group
-- Keller Williams Realty


VENUES INCLUDE

-- The Palace Station Casino and Hotel in Las Vegas (where he performed for PENN & TELLER)
-- The Magic Castle (Hollywood, CA)
-- The Norwegian Pearl cruise ship
-- Comedy clubs in Arizona, Minnesota and Florida
-- Hotels and theatres throughout 18 countries in Europe and Australia
-- He's been a featured performer many times at Wizardz Magic Theatre, Kissimmee, FL