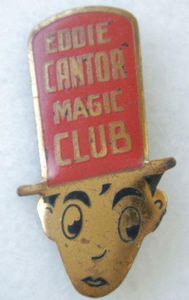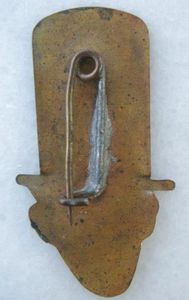 Eddie Cantor Magic Club Antique Pinback
 (1935)
In Collection


#1372
10*
Conjuring
Ephemera, Memorbilia
Memorbilia, Ephemera 
Eddie Cantor Magic Club Antique Pinback Top Hat Guy

Description:
Rare Eddie Cantor Magic Club Brooch Pin. As shown. Measures 1 1/2" tall x 3/4" wide.

2nd of 4

Read It
No
Location
Magic Library (Home)
Condition
Very Fine
Owner
Bryan-Keith Taylor
Eddie Cantor Magic Club Pebeco Toothpaste Radio Premium

An enamled brass pinback for the Eddie Cantor Magic Club. Rare, these were issued as a radio premium by Pebeco Tooth Paste for the Eddie Cantor Show.
This remains in good overall condition. The front shows some slight scuffs. This pin measures an approximate 1-1/4" x 3/4".