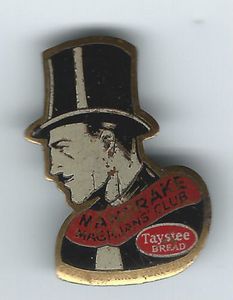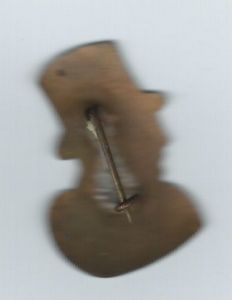 Mandrake Magician's Club - Die-Cut Pinback
 (1934)
In Collection


#1401
10*
Conjuring
Ephemera, Memorbilia
Memorbilia, Ephemera 
Vintage 1934 Mandrake Magician's Club die-cut 1" metal pinback button. King Features. Some minor age wear.
1934 Taystee Bread Mandrake Magician Club pin radio premium pin badge.

Brass pin in the shape of a man wearing a top hat. 1-1/8" tall, about 3/4" wide. Printed in red, black, and white. The front reads "MANDRAKE MAGICIANS CLUB Taystee BREAD" and incised below that is "COPR 1934 KING FEATURES." Metal spring pin and loop closure on reverse. The paint is worn

4th of 5

MANDRAKE THE MAGICIAN Pin

This was a give-away, back in 1934, for the Mandrake the Magician Magicians Club.
This Taystee Bread advertisement pinback has a little wear, but not much - as can be seen in the photos above.
Measures approximately 1"x1 1/16" and a GREAT Mandrake collectible from 78 years ago.

Read It
No
Location
Magic Library (Home)
Condition
Very Fine
Owner
Bryan-Keith Taylor