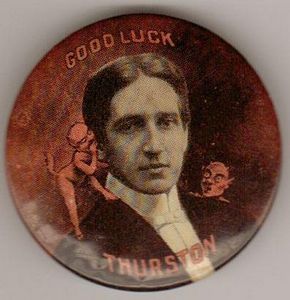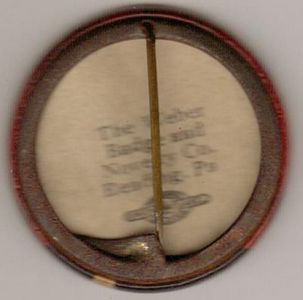 Howard Thurston - Good Luck devil celluloid button pinback
 (1908)
In Collection


#1369
10*
Conjuring
Ephemera, Memorbilia
Memorbilia, Ephemera 
Early Magic Howard Thurston Good Luck devil celluloid button pinback, Weber Backpaper


An original glossy 1 1/4" inch early vaudeville and beyond celluloid button, pinback that promoted the international magic act of world famous magician Howard Thurston of Columbus, Ohio who was often compared to Houdini.
Celluloid with whispering demons is in nice glossy clean condition with some wear and slight bumpiness. The reverse has complete Weber Badge and Novelty Co., Reading, Pa. with union logo or bug backpaper.


Thurston - Pin - Circa 1800 - Only four known - in this condition

collectable - investment
There are only SEVEN of these pins known in existance.

Read It
Yes
Location
Magic Library (Home)
Condition
Very Fine
Owner
Bryan-Keith Taylor