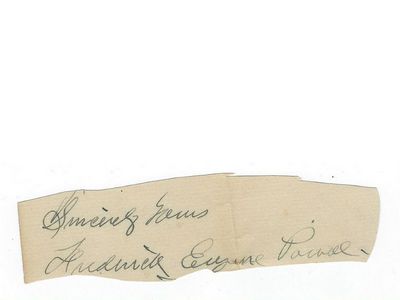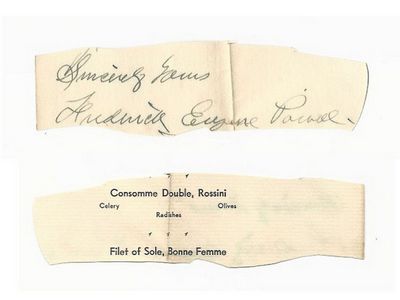 Frederick Eugene Powell autograph-Signed on back of clipped menu-ca.1930s - Autograph
In Collection


#1294
10*
Conjuring
Autograph, Ephemera
Memorbilia, Ephemera 
Frederick Eugene Powell autograph-Signed on back of clipped menu-ca.1930s

This is an autograph, in ink, signed:
"Sincerely yours
Frederick Eugene Powell"

On the back is printed menu items. Powell signed the back of the menu, and his signature was clipped from that.

DATE: Circa 1930s

SIZE: 1 3/8 by 5 1/4 inches.

COND: Has been folded, with one vertical crease. All in otherwise very Fine, almost Mint condition. Please view the attached image to see the quality of this fine item.

Read It
No
Location
Magic Library (Home)
Condition
Very Fine
Owner
Bryan-Keith Taylor
From Magicpedia, courtesy of Genii Magazine:
Frederick Eugene Powell (1856 - 1938) started performing in 1874 after first obtaining a degree in civil engineering. He performed with Imro Fox and Servais LeRoy as part of the billing called the "Triple Alliance". He went on to create his own illusion show touring the United States, South America, and the West Indies. Powell's entire stage show was destroyed twice, once 1915 by a fire and again in 1921 by a flood in San Antonio. Powell continued to perform. His last public performance was in November, 1934. Powell retired to New Haven, Connecticut.

In 1922, Powell headed one of the four touring companies for "The Houdini Wonder Show of 1922", which was presented in connection with Houdini's film "The Man From Beyond". He was Deans of The Society of American Magicians from 1922 to 1938. Powell lived with the John Petrie during his last years who filmed some 16mm movies including studies Powell (a copy of the film is now part of the S.A.M. Film Library.)