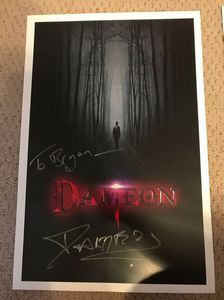 Dameon Magic Poster - aka (Hal Meyers)
 (2018)
In Collection


#1439
10*
Magic
Magic Poster
Poster 
USA 
eng
Dameon Magic Poster

With the recommendation of renowned Illusionist, Richiardi, Dameon, began his professional "magical journey" performing a manipulative act in Barcelona and Madrid Spain, Sao Paulo Brazil, New Zealand, Canada, Singapore, North Korea and Hong Kong. In the USA he appeared on Broadway, performed in Chicago and Miami Beach and prestidigitated and starred in numerous revues in Atlantic City. Dameon "magically produced" Will Smith with Wayne Alan in front of Tower Records for the "Willenium Album" and has worked Houston's Magic Island and the renowned Hollywood Magical Castle.
Oh yeah, he cruised too. Approximately 135 cruises – in a row – over a 3 year span.
In the 90's Dameon partnered with Peter Samelson, forming the Magic Source, a company devoted to the creation of entertaining at corporate events, trade shows, awards banquets, product launches, etc. They designed magical moments for commercials, print ads, corporate videos and special effects for films, Whispers in the Dark and What About Bob with Bill Murray and Richard Dreyfuss.
Between and during gigs Dameon lectures on the art of manipulation – "Back to the Basics" for magic organizations utilizing his "original" CLEAR set of tails … and he's the co-creator of the "SKYLINER" a novelty device which puts custom virtual messages in mid air. Magicians know it as Boris Wild's "Mind Scanner".
Dameon recently appeared at Abbotts, the MAES, and the Ohio Battle of The Magicians conventions as both performer and lecturer. You can also find an article pertaining to a little adventure he took to North Korea in the digital magic publication – Vanish – issue #10.

Read It
No
Location
Magic Library (Home)
Condition
Good
Owner
Bryan-Keith Taylor