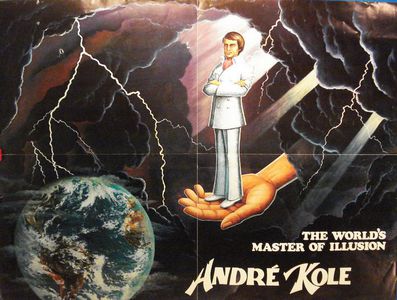 Vintage Andre Kole Magic Poster
In Collection


#1368
10*
Magic
Magic Poster
Poster 
USA 
eng
VINTAGE ANDRE KOLE MAGIC POSTER
Andre Kole Poster-World's Master of Illusion-He stands on hand from cloud- -

Poster for the Andre Kole magic show with his name and "The World's Master of Illusion" printed in text. Image is of Kole standing on a hand coming out from a cloud. This will be shipped folded.

DATE: Circa 1980s/90s
SIZE: 17 3/4 by 24 inches
COND: Minor use marks. Some small pucks. Has been folded, with visible fold lines, with splits at end of some folds, now repaired with archival tissue tape. All in otherwise very Fine condition. Please view the attached image to see the quality of this fine item.

Read It
No
Location
Magic Library (Home)
Condition
Good
Owner
Bryan-Keith Taylor
From Magicpedia, courtesy of Genii Magazine:

André Kole (b. 1936) is an American magician and inventor of magical effects. He is also a committed Christian and is a public speaker for the evangelical group Campus Crusade for Christ International.
Inspired to take up magic at the age of seven after seeing a performance by Moxo the Magician (Mark E. Barker). By the time he was 20 he was performing his Table of Death trick on the national network television show You Asked For It. He has performed throughout the United States and in 79 countries of the world. He has made special televised appearances that aired in 40 countries. Among the illusions Kole is credited with devising are the Squeeze Box illusion (licensed to builder John Gaughan), and the Head Mover illusion (as performed by David Copperfield and Kirby Van Birch).

In addition to his performances, he has spent more than 20 years investigating psychic phenomena and controversial mysteries. As a part of his elaborate stage production, Kole exposes some of the fraudulent and deceitful hoaxes that he has investigated and reveals the truth behind transcendental levitation, dematerialization, the Bermuda Triangle mystery, the occult and communication with the dead and much more. He was reported in 2003 as offering 1 million dollars to the Rev. Dr. Donald Stewart if Stewart could prove a statement made in the Jamaican newspaper the Jamaica Gleaner that Satan gives supernatural powers.

He states on his website that he does not perform the classic trick of pulling a rabbit from a hat because he is allergic to rabbits.

He is the father of illusionist Tim Kole.

Awards and honors
Al Sharpe Award for Originality in Presentation from the Texas Association of Magicians (1955)
Inventor of the Decade by the International Magicians Society