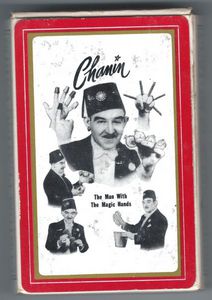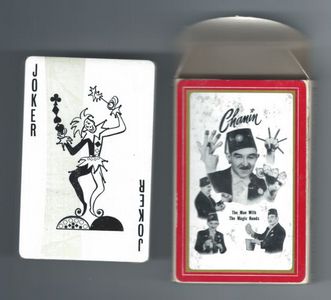 Jack Chanin Playing Cards
In Collection


#1465
10*
Conjuring
Ephemera, Memorbilia
Memorbilia, Ephemera 
Jack Chanin Playing Cards

This is a Bridge Size Deck Of Playing Cards and the back design of this deck is a collection of photos of Jack Chanin. The deck itself is Still Sealed in the Cellophane. This is a Very Rare and Very Collectible deck of playing cards!!

photo ishowing a card back design is only on the box and does appear on the cards. The cards all have the CHANIN design on the backs.

Read It
No
Location
Magic Library (Home)
Condition
Mint
Owner
Bryan-Keith Taylor
Jack Chanin

Born:
January 15, 1907
Ukraine

Died:
November 09, 1997 (age 90)

Nationality:
Ukrainian

Jack Chanin (1907-1997):
Was born in the Ukraine fled to Poland, and finally immigrated to the USA in 1926. Besides being a manufacturer, creator and owner of Chanin's Studio of Magic, he was also a performer and demonstrator. He would performed an Oriental act under the name Cha-Nin. He ran Philadelphia's oldest magic studio, Chanin's Studio of Magic, until 1981.

Biography:
He had two different playing cards printed which were used for his promotions. A blue and gold bordered card featuring his Chinese act called Cha-Nin and a red and gold card titled "The Man With The Magic Hands" featuring photos of him performing manipulative routines.

Marketed Tricks:
•Mesh Egg Bag (1953)

Books:
• Seven in One (1928)
• Hello, Sucker! (1934)
• Cigar Manipulation (1937)
• Grand Finale (1937)
• Encyclopedia of Sleeving (1947)
• Chanin, The Man with the Magic Hands by David Haversat (2002)
• Jack Chanin: Classic Deceptions CD from Miracle Factory (2008)

References:
1. Article Genii 1954 March
2. Cover Genii 1993 February
3. Obit Genii 1997 October
•Magic History - Jack Chanin
•Radio Program interview with Jack Chanin
•Jack Chanin Bibliography
•The Magic Cafe Forums - Jack Chanin's little shop in Philly