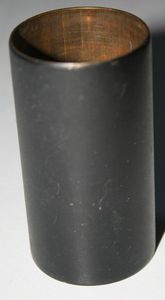 Rice Silk Die Tube - Medium Size
In Collection


#1538
10*
Conjuring
Tricks
Trick 
Genuine Vintage Rice's Dye Tube

RICE'S DELUXE UTILITY DYE TUBE- These were certainly the finest on the market when they were made many years ago and, quite frankly, are way ahead of the competition even more now! They are precision construction throughout; made entirely of BRASS and outside of tube is black. The sliding cup will not bind or pinch the silks and is silent in operation.

Dye Tube: Medium which measures 3 1/2" long by 1 3/4" diameter.


This is a wonderful utility device. Which have not been made in decades!

Read It
No
Location
Magic Library (Home)
Condition
Near Mint
Owner
Bryan-Keith Taylor