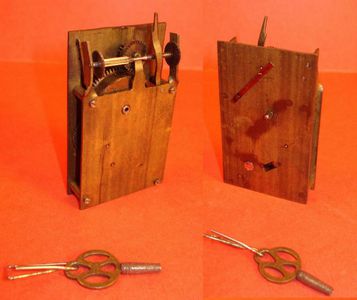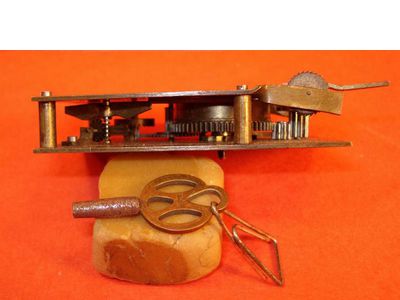 Rising Card Key Winding Mechanism
In Collection


#1583
10*
Conjuring
Tricks
Trick 
Rising Card Key Winding Mechanism
Brass-probably Germany?-early 1900s

Rising Card Key Winding Mechanism, all in Brass, probably from Germany. No makers mark. This would be put into a hollow partial deck of cards, with two slits on the face card. Two toothed wheels would project through the slits. The back of the hollow deck would have one small hole for the key for winding. Select your cards, control them to the top of the deck so they would be next to the toothed wheels. There is a lever that would project up out of the top of the deck to turn the mechanism on. One turned on, the first card would start rising up and then stop. Take it out and wait, then the next card would come up. The crown gear on the top has teeth on only half of the crown, and blank on the other half. This would cause the rising to only happen when the teeth portion was engaged, and pause when the blank portion went by. In ingenious clockwork apparatus. Complete with original key. If you go to the Thayer Website and search on Rising Card Mechanisms you will find similar items.


DATE: Circa early 1900s.

SIZE: 1 1/2 by 2 1/2 by 7/16 inches.

COND: Mechanism is sluggish, so probably needs adjusting as it does stop while still wound up. A tap on the side gets it started again. In otherwise Very Fine condition.

Read It
No
Location
Magic Library (Home)
Condition
Near Mint
Owner
Bryan-Keith Taylor