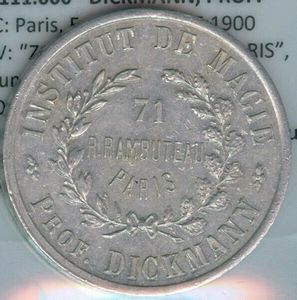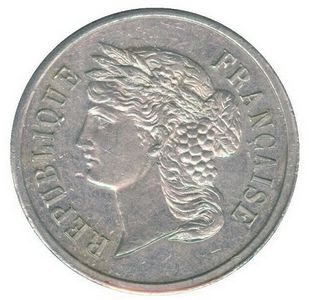 DICKMANN, PROF. (Nicolas Minalono) -- MT111.000
 (1900)
In Collection


#233
10*
Conjuring
Magic coin / token
Token / Coin 
DICKMANN, PROF. (Nicolas Minalono) -- MT111.000

LOCATION: Paris, France.
DATE:1900
OBV: "71/R. RAMBUTEAU • PARIS" within wreath,
around is "INSTITUT DE MAGIE/ PROF. DICKMANN".
REV: Bust of woman facing left, around is "REPUBLIQUE FRANCAISE".
COMPOSITION: AL, R6, SH, R6. 36.5·S

In addition to being a dealer in coins, Denton was an engraver and printer. He translated Henri Decremps' "La Magie Blanche Devoilee" publishing it in English as "The Conjuror Unmasked . • ." (London, 1785 & 1788). In 1789, Denton was accused of counterfeiting, and although acquitted of that charge, was found guilty of possessing counterfeiting equipment and was hanged on July 1 of that year.

Read It
No
Location
Magic Library (Home)
Condition
Very Fine
Owner
Bryan-Keith Taylor