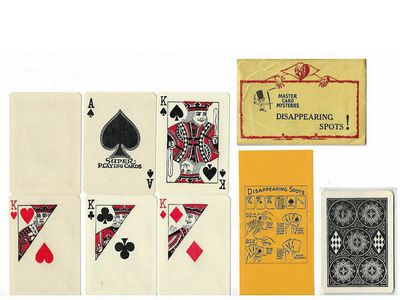 RARE 1935 Eddie Cantor's Trick Cards Set
 (1935)
In Collection


#1632
10*
Conjuring
Tricks
Trick 
RARE 1930's Eddie Cantor's Disappearing Spots

The Disappearing Spots, card trick put out as a radio premium in the 1930s. It is from the Eddie Cantor Magic Club. Cantor, a vaudeville, movies, radio and later TV star, had a radio show sponsored by Pebeco toothpaste. Send in box tops and a small bit of money and you would receive various magic tricks. This effect was originally invented by Theodore DeLand, circa 1910. Four kings become four aces which become blank cards. Envelope has the Cantor Magic Club logo to the left of, "MASTER CARD MYSTERIES''. These were put out Sherms Magic Company, with the Sherms blue pattern back.

SIZE: Poker size cards, 2 1/2 by 3 1/2 inches, round corners.

COND: Envelope has minor use marks. Cards and instructions are all in otherwise very Fine, almost Mint condition.

Read It
Yes
Location
Magic Library (Home)
Condition
Fine
Owner
Bryan-Keith Taylor