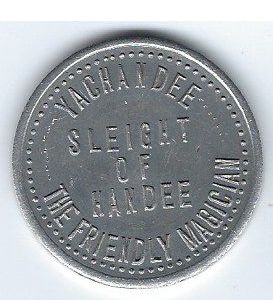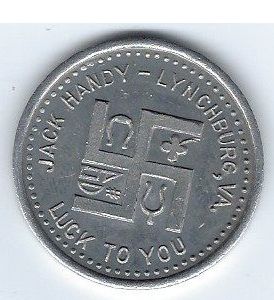 YACHANDEE -- MT354.00 - (Jack Handy)
 (1935)
In Collection


#781
10*
Conjuring
Magic coin / token
Token / Coin 
YACHANDEE -- MT354.00
(Jack Handy)

LOCATION: Lynchburg, Virginia
DATE: 1935
OBV: YACHANDEE / SLEIGHT / OF / HANDEE / THE FRIENDLY MAGICIAN.
REV: Swastika, good luck symbols, JACK HANDY - LYNCHBURG, VA. / LUCK TO YOU.
COMPOSITION: AL, R6 32-S

Thin and made for palming. At 39 mm in size. An unlisted

Alan is possibly the most creative and original magician in Hong Kong, performing his own material for close-up and parlor magic at corporate and private events. Alan is touted as the "Magician's Magician" as his material has generated great interest and following among other magicians. His is highly respected in the magic community for a number of unique inventions which are widely available in magic shops around the world. People talk for days about Alan's amazing magic

Size: 39 mm.
Material: Chromed steel. Attracted by magnet.

Read It
Yes
Location
Magic Library (Home)
Condition
Mint
Owner
Bryan-Keith Taylor