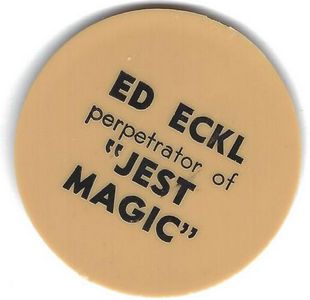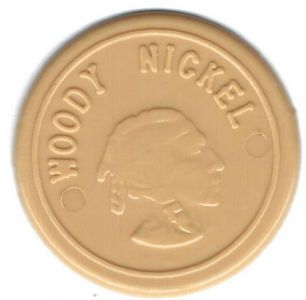 ECKL, ED - MT118.100 - (Tan Plastic)
 (1979)
In Collection


#263
10*
Conjuring
Magic coin / token
Token / Coin 
USA 
ECKL, ED - MT118.100

Not in Kuethe
LOCATION: Unk
DATE: 1979
OBV: "ED ECKL / perpetrator of / "JEST / MAGIC"
REV: "WOODY NICKEL", half around Indian Head,
COMPOSITION: Tan Plastic Off Ctr. St. 39-S
COND: Very Fine, almost Mint condition. Please view scanned image to assess the quality of this fine item.

Read It
No
Location
Magic Library (Home)
Condition
Mint
Owner
Bryan-Keith Taylor
From Magicpedia, courtesy of Genii Magazine:

Ed Eckl was a prominent figure in the Upper New York State magic scene and a performer at Eddie Fechter's Fork Hotel. As proprietor of Unikorn Magic, he published the magazine Precursor. At the 2002 FFFF, Eckl receive a plaque, along with and Bill Miesel, for the work they did on Precursor.