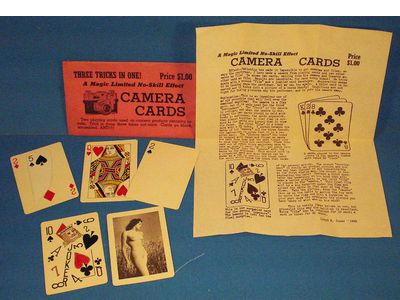 Camera Cards - with instructions in original envelope
 (1943)
In Collection


#1642
10*
Conjuring
Tricks
Trick 
Camera Cards-Lloyd Jones-1943
A 2 Card camera makes blank, mixed up, & nude cards

This is the Camera Cards, put out by Lloyd Jones, in 1943. You show five cards, and then take two an pretend they are a camera. The Two of Spades is slid between them, and you can see the Two of Spades. Pretend to take a picture and the Two of Spades is now a blank card. "Let me try that again". You put another card, the 10 of Spades between the two camera cards, and you can see the Ten of Spades. "Think of a card, and I'll try to take a picture of your mind". The Ten of Spades is taken out and now is a mixed up card, with multiple corner pips, numbers, a kings head. "Let me try it again" The last card is slid between the two camera card, and you can see it is the Five of Spades. "Think of anything you want!"? When you take out the center card that was the Five of Spades, you now find a photo of a beautiful nude woman. Comes with all cards, original instructions, in original envelope, as issued by Lloyd Jones in 1943.

DATE: 1943

SIZE: Poker size cards, 2 1/2 by 3 1/2 inches.

COND: Minor use marks. All is in otherwise Very Fine Condition.

Read It
No
Location
Magic Library (Home)
Condition
Near Mint
Owner
Bryan-Keith Taylor