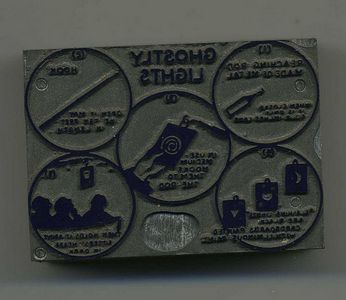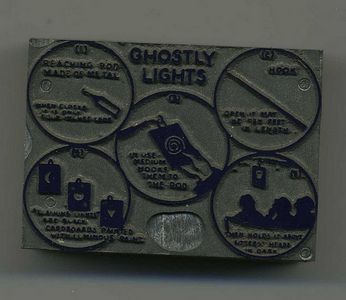 Vintage "Ghostly Lights" Magic Catolog/magizine Printing Block
In Collection


#1678
10*
Conjuring
Printing block 
Vintage "Ghostly Lights" Magic Catolog/magizine Printing Block ~ ~ ~ Advertising, Historical, Illusion, Trick, Illusionist, Ephemera, Collectible, Magical

Wood block & metal.
Measures approx. 1 3/8 inches by 2 inches, by 1-inch thick.
exact date unknown.
*Note: Regarding the last two pictures we show in this listing. For the first one we simply scanned the image on the block as is. For the second one, we "flipped" the image so you can see what the block image will look like should you use it.
Printing block packs a lot of information in a small area. [Some of it is ridiculously small - we did our best to make out all the words but a few of them were very hard to make out]. It details the five steps involved with the magic trick.
Printing block reads as follows:
"GHOSTLY LIGHTS."
"(1) - Reaching Rod. Made of Metal. When closed (...?....) four inches long."
"(2) - Hook. Open it may be 8"(?) feet in length."
"(3) - In use, medium hooks them to the rod."
"(4) - "Flaming(?) Lights" are black cardboards painted with luminous paint."
"(5) - Then holds it above (...?....), hears in dark."

Read It
No
Location
Magic Library (Home)
Condition
Mint
Owner
Bryan-Keith Taylor