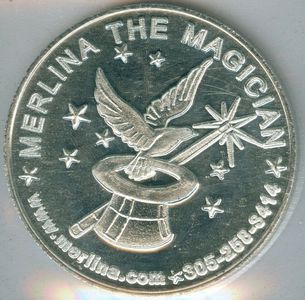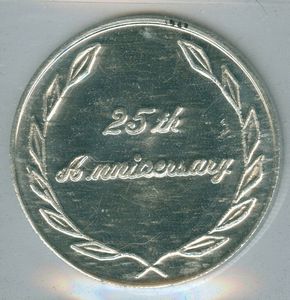 MERLINA THE MAGICIAN – MT248.276
 (2015)
In Collection


#511
10*
Conjuring
Magic coin / token
Token / Coin 
MERLINA THE MAGICIAN – MT248.276


LOCATION: USA.
DATE:2015
OBV: MERLINA THE MAGICIAN / field of stars with
dove over a top hat and a wand in the back ground
/ www.merlina.com / [phone removed by eBay].
REV: 25th / ANNIVERSARY, surrounded by wreath.
COMPOSITION: AL, R1; BZ, R2. Coin St. 39-R/S

ITEM AS LISTED IN THE BOOK "MAGIC TOKENS"
@ http://www.magictoken.org/magic/guide.html
This is my personal website.


Read It
No
Location
Magic Library (Home)
Condition
Mint
Owner
Bryan-Keith Taylor