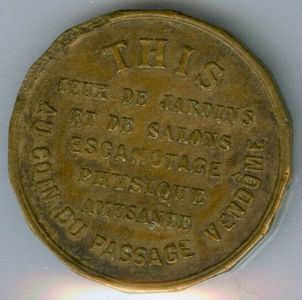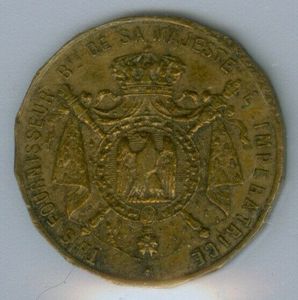 THIS - MT321.000
 (1863)
In Collection


#718
10*
Conjuring
Magic coin / token
Token / Coin 
THIS - MT321.000

LOCATION: France.
DATE:1863
OBV: THIS/ JEUX DE JARDINS/ ET DE SALONS/
ESCAMOTAGE/ PHYSIQUE/ AMUSANTE/ AU
COIN DU PASSAGE VENDOME (Gardens and
lounges games manufacturer - Conjuring -
Funny Physics - At the corner of Passage Vendôme).
REV: Coat of Arms, around THIS FOURNISSEUR
Bte DE SA MAJESTE L IMPERATRICE. l'Impératrice
( Patended supplier of her Majesty the Empress )
- Napoleon III arms.
COMPOSITION: C, R8. (16 sided) 21.5-S


ITEM AS LISTED IN THE BOOK "MAGIC TOKENS"
@ http://www.magictoken.org/magic/guide.html
This is my personal website.

Read It
No
Location
Magic Library (Home)
Condition
Very Fine
Owner
Bryan-Keith Taylor