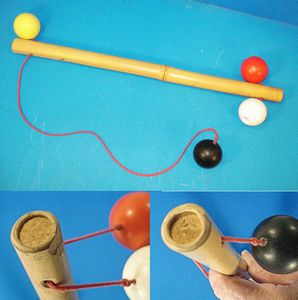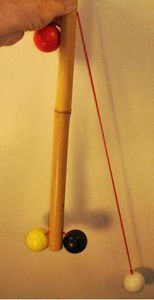 Bamboo Pom Pom Pole with colored balls-Attributed to Silent Mora
In Collection


#1856
10*
Conjuring
Tricks
Trick 
Bamboo Pom Pom Pole with colored balls-Attributed to Silent Mora

This is a Bamboo Pom Pom Pole, with colored balls instead of pom-poms. Cords go thru holes on each end. Balls are white, red, yellow and black. Pulling on any ball, left or right, will cause the ball on the end of the long cord to come up. Since the balls are heavy, you do have to rotate it each time you do a change. There are no instructions but it you google Pom Pom Pole Prayer stick, you will see a routine.

This is made from an actual piece of hollow bamboo. Each end is sealed with cork. This comes from the collection of Jerry Fields. Jerry and his wife Ann were friends of Silent Mora and would often visit him at the Long Island Hospital in Boston where Mora spent the last years of his life. Mora corresponded with the Fields and often gave them gifts of the some of the magic tricks that he made at the hospital The use of the bamboo, and sealing the ends with corks, is similar to the way that Mora made his bamboo Chinese Sticks. The third image shows a set of his Chinese Sticks signed to Jerry Fields, already sold. The sticks are signed and you can see the cork sealing the ends. While this item is not signed, I believe that it can be attributed to the work of Silent Mora, from examining the type of manufacture and his many years of friendship with Jerry and Ann Fields.


From Magicpedia, courtesy of Genii Magazine:

Silent Mora (Louis Jerome McCord - 1884 - 1972) made most of his own apparatus and may be best known for his Balls in Net routine.

Mora tutored in magic by John Lawrence McKissock and while young he became friends with Edward Maro who was a successful bandleader and magician. He reversed the vowels in Maro to create his stage name. He performed on vaudeville, doing a silent act early in his career, possibly the first pantomime magic act in Oriental costume. Ching Ling Foo taught him a number of routines. He also did shadowgraphy and juggling.

He may have also been one of the first to synchronize magic to music in a performance. Silent Mora later settled in Boston and became active in the magic community.


DATE: Circa 1950s/60s.

SIZE: Bamboo is 16 3/4 inches long by 3/4 inch diameter.

COND: Minor use marks. All in otherwise very Fine, almost Mint condition.

Read It
No
Location
Magic Library (Home)
Condition
Near Mint
Owner
Bryan-Keith Taylor