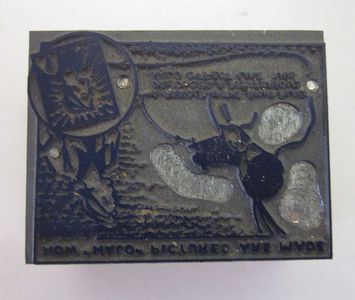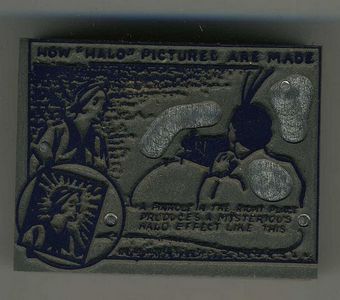 Vintage Magician Catalog "HOW HALO PHOTOS ARE MADE", Aura, Psychic Photographer Printing Block
In Collection


#1894
10*
Conjuring
Printing block 
Vintage Magic Magician Catalog Printing Block - Letterpress ~ HOW "HALO" PHOTOS ARE MADE, Aura, Psychic Photographer ~ ~ ~ Advertising, Historical, Illusion, Trick, Illusionist, Ephemera, Collectible, Magical

Wood block & metal.
Measures approx. 1 1/2 inches by 2 inches, by 1-inch thick.
exact date unknown.
*Note: Regarding the last two pictures we show in this listing: For the first one we simply scanned the image on the block as is. For the second one, we "flipped" the image so you can see what the block image will look like should you use it.
Bottom of printing block reads:
"How "Halo" Pictures Are Made."
"A Pinhole In The Right Place Produces A Mysterious Halo Effect Like This."
Condition:

a rare, wonderful, hard-to-find, must-own piece of magic history.

Read It
No
Location
Magic Library (Home)
Condition
Mint
Owner
Bryan-Keith Taylor