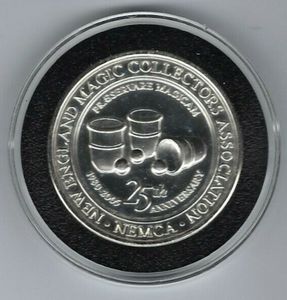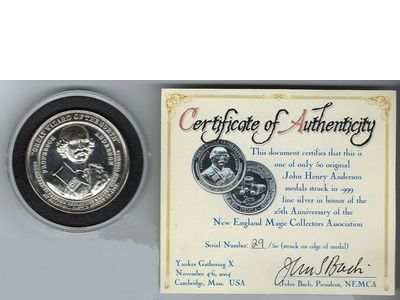 NEW ENGLAND MAGIC COLLECTORS ASSOCIATION -- MT262.106 - (.999 Silver)
 (2004)
In Collection


#557
10*
Conjuring
Magic coin / token
Token / Coin 
N. E. MAGIC COLL. ASSN. -- MT262.106

LOCATION: Salem, MA.
DATE: 2004
OBV: "NEW ENGLAND MAGIC COLLECTORS ASSOCIATION *NEMCA*" around, "Preserve Magicam 1980-2005 25th Anniversary", cups and balls in center.
REV: Bust right, "PROFESSOR/ ANDERSON" around is "GREAT WIZARD OF THE NORTH"/ "COMMANDED TO PERFORM BEFORE HER MAJESTY QUEEN VICTORIA / AT BALMORAL CASTLE AUGUST 28, 1849".
COMPOSITION: Antique BZ, NI, and .999 Silver. 37.5-S

NOTE: # issued 100 BZ, 100 NI, 50 SI and 8 Gold.

Read It
No
Location
Magic Library (Home)
Condition
Very Fine
Owner
Bryan-Keith Taylor