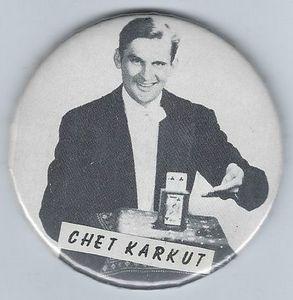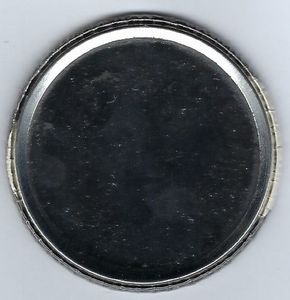 KARKUT, CHESTER L. ("CHET") - PM43 - Pocket Mirror
 (1986)
In Collection


#1775
10*
Conjuring
Ephemera, Memorbilia
Memorbilia, Ephemera 
KARKUT, CHESTER L. ("CHET") - PM43

LISTING: None.
LOCATION: USA.
DATE: Mid-to-late 1980s.
MAKER: CLK [DEH].
RARITY: R7, V50 ($20, 11/2001).
OBV: Black-and-white photo portrait of Karkut facing forward, performing the rising
cards, "CHET KARKUT" across bottom,
REV "`BADGE A MINIT LASALLE IL 61301" on collet.
COMPOSITION: Round, 59mm.
KNOWN SPECIMENS: GB from RJF from GLD; RJG; DEH; KFK; BSS; BEW from RAR from EH.

Read It
No
Location
Magic Library (Home)
Condition
Mint
Owner
Bryan-Keith Taylor