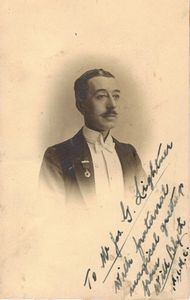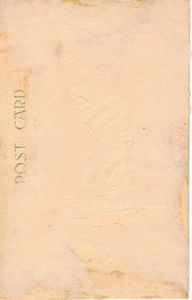 Will Blyth - Postcard - Autographed
 (1930)
In Collection


#1763
10*
Conjuring
Magician
Card 
Will Blyth Postcard

* Signed Photo Postcard-Will Blyth-Magic Circle ca1930s *


ITEM: Magician Photo Postcard, Signed byWill Blyth to Joseph Lightner. Blyth has finly waxed mustached, and proudly displays the membership medal of the London Magic Circle on his lapel. No date, but probably circa 1930s. He signs it:

To Mr. Jos. G. Lightner
With fraternal
magical greetings

from
Will Blyth
M.I.M.C.

SIZE: Card is 3 3/8 by 5 5/16 inches.
CONDITION: Minor use marks. Back has paper from album mounting. In othewise FINE condition.

Extras
Author autograph, Inscribed

Read It
No
Location
Magic Library (Home)
Condition
Near Mint
Owner
Bryan-Keith Taylor
Will Blyth
From MagicPedia
Will J. Blyth (1873-1937)

Born in England.

Books
•Blyth's Paper Magic (1920)
•Handkerchief Magic (1922)
•Impromptu Conjuring (1924)
•Money Magic (1926)
•How to Become a Conjurer (1934)