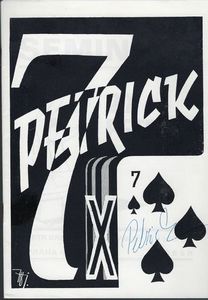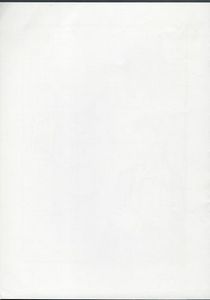 7 X Petrick (Black)
Petrick (Petr Krejcik)
In Collection


#3928
10*
Conjuring
Magic tricks
Softcover, saddle-stitched 
Praha, CSSR 
eng
Petrick: 7 X Petrick (Black)
© Petrick (Petr Krejcik), Praha, CSSR
Softcover, saddle-stitched, 6x8.5", 16 pages Petrick: 7x
Petrick Black
Image courtesy eBayk seller FlimFlams
Comments: Black cover with a 7 of Spades. In both English & German. Card Magic.
The Seven by Petrick Series were released in seven volumes, each with seven tricks, and each with a different color cover and topic covered. The others were:
7X Petrick Red with 7 of Hearts - Cards
7X Petrick Blue with 7 of Clubs and hand with Billiard Balls - Ball Magic
7X Petrick Green with 7 of Clubs and a Handkerchief - Silk magic
7X Petrick Orange with Joker - Cards
7X Petrick Maroon with silhouette of Petrick Throwing a Ball - Stage Magic
7X Petrick Purple with silhouette of Petrick's profile - Miscellaneous Magic
Contents (Andrew Pinard):

1. A selected (court) card is revealed and then the middle is knocked out.
2. A card is selected and then lost in the deck. A special spinning tray is displayed. An indifferent card is removed from the deck and placed on the tray. The tray is placed into motion and when it stops it is revealed that the card has transformed into the selected card.
3. Selected card is lost in the deck. Spectator deals the cards face up until performer says stop. The card stopped at is the selected card (shiner).
4. Selected card appears on the face of a vertically-held deck (color change).
5. Flashy transformation of an indifferent card to a selected one.
6. One card is held perpendicular to the deck. It penetrates the rest of the deck which is then displayed as completely normal.
7. Nine cards are laid out face up on the table in a three by three grid. They are turned over one at a time to reveal the design of a single jumbo playing card.


Extras
Autographed
No. of Pages
16
First Edition
Yes

Read It
No
Location
Magic Library (Home)
Condition
Mint
Owner
Bryan-Keith Taylor