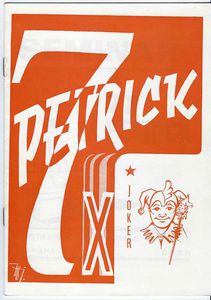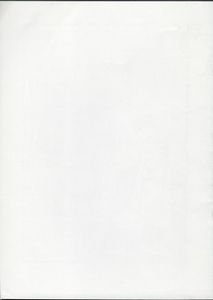 7 X Petrick (Orange)
Petrick (Petr Krejcik)
In Collection


#3932
10*
Conjuring
Magic tricks
Softcover, saddle-stitched 
Praha, CSSR 
eng
Petrick: 7 X Petrick (Orange)
© Petrick (Petr Krejcik)
Softcover, 6x8.5", 16 pages
Comments: Orange Cover with Joker. Card Magic.

The Seven by Petrick Series were released in seven volumes, each with seven tricks, and each with a different color cover and topic covered. The others were:

7X Petrick Red with 7 of Hearts - Cards
7X Petrick Blue with 7 of Clubs and hand with Billiard Balls - Ball Magic
7X Petrick Green with 7 of Clubs and a Handkerchief - Silk magic
7X Petrick Black with 7 of Spades - Cards
7X Petrick Maroon with silhouette of Petrick Throwing a Ball - Stage Magic
7X Petrick Purple with silhouette of Petrick's profile - Miscellaneous Magic
Contents (Andrew Pinard):

1. Card selected by spectator is replaced into deck. This is then placed into the card box which is bound by a rubber band. Performer removes the selected card, apparently penetrating the box and the rubber band.
2. Selected card is revealed after being placed in card box (shiner).
3. Jumbo card is pushed by a spectator into the deck. Performer reveals that the jumbo card is next to the selected card.
4. Transformation of blank card to selected card (color change).
5. Transformation of five regular cards to five blank cards.
6. A five of diamonds is placed face up on table. Performer indicates it is selected card but spectator disagrees. Using four other cards, performer covers the corner pips with face down cards to "transform" it into the ace of diamonds which matches the card. Four face-down cards are lifted to reveal that the five has actually transformed into the ace.
7. A full deck is placed into a transparent card case with a selected card at the face. With a knock, all the cards fuse and become a "thick" single card (deck switch).


No. of Pages
16
First Edition
Yes

Read It
No
Location
Magic Library (Home)
Condition
Mint
Owner
Bryan-Keith Taylor