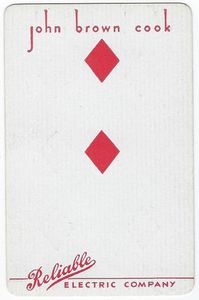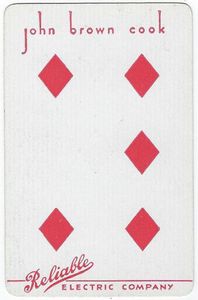 John Brown Cook - Throw Out Card
In Collection


#1828
10*
Magic
Memorbilia, Ephemera 
John Brown Cook 1,3,4,6 Bridge Size spot card-Red ink on white card

John Brown Cook 1,3,4,6 spot card. This came from the collection of Ray Goulet.

FRONT: His name above two diamond pips, "Reliable Electric Company" printed below.
BACK: His name above five diamond pips, "Reliable Electric Company" printed below.
DATE: Unknown
SIZE: 2 1/4 by 3 1/2 inches.
COND: All in otherwise very Fine, almost Mint condition.



Read It
No
Location
Magic Library (Home)
Condition
Very Fine
Owner
Bryan-Keith Taylor
From Magicpedia, courtesy of Genii Magazine:

John Brown Cook (1908-1978), a president of an electronics company, was an amateur magician, magic collector and served as National Vice President of the Society of American Magicians. After graduating in 1929 from Dartmouth College with distinction in Physics, he worked in the family business, Reliable Electric Company of Chicago, Illinois. He later became its president in 1942 where he met and became lifelong friends with Arthur Buckley, who was on the staff.As a collector he was a member of the Magic Collectors Association and bought part of George Karger's collection in the 1950s. He held patents on many inventions relating to the telephone and power industry.