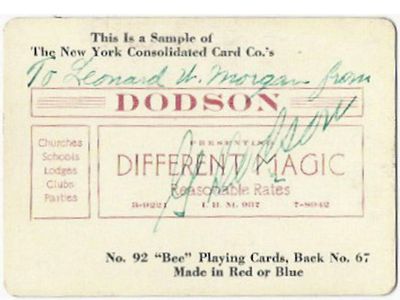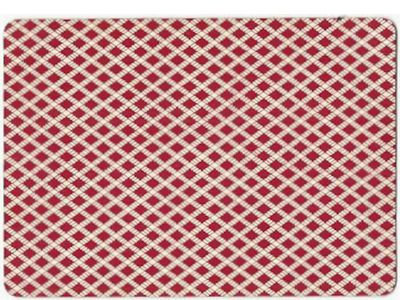 Goodlette Dodson - Throw Out Card
In Collection


#2105
10*
Magic
Memorbilia, Ephemera 
Throwout Card-Goodlette Dodson-ca1930s-Signed by Dodson-Red Bee Back --

Throwout Card for magician Goodlette Dodson, circa 1930s. Card copy small black text on long sides: "This is a Sample of / the New York Consolidated Card Co.'s" on the top of the long side. Text on bottom of long side: "No. 92 "Bee" Playing Cards, Back No. 67 / Made in Red or Blue". Printed in red, "DODSON / PRESENTING / DIFFERENT MAGIC / Reasonable Rates", followed by phone numbers and I.B.M. 937". Block to the left has text, "Churches / Schools / Lodges / Clubs / Parties". Dodson has written and signed this in green ink:

"To Leonard W. Morgan from
G. Dodson"

DATE: Circa 1930s.

SIZE: 2 1/2 by 3 1/2 inches.

COND: In otherwise very Fine almost Mint condition.

Read It
No
Location
Magic Library (Home)
Condition
Mint
Owner
Bryan-Keith Taylor
From Magicpedia, courtesy of Genii magazine:
Goodlette Dodson (1889-1970) was a pioneer in the field of exhibition card fans.

Books:
Exhibition Card Fans (1935)