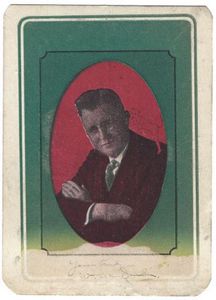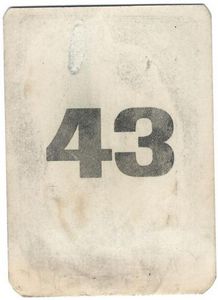 W.W.Durbin - Throw Out Card
In Collection


#2032
10*
Magic
Memorbilia, Ephemera 
W.W.Durbin-Photo with shoulder imp-Throw-out Card-Possible autograph-v.Good-

ITEM: Throw-out Card-W.W.Durbin-Photo with shoulder imp-Possible autograph-v.Good

FRONT IMAGE: Red oval has color photo of W. W. Durbin, with an imp on his shoulder, whispering in his ear. There is a green border around the oval. The bottom edge has color loss, as if it were bleached, so color is gone. This loss is just up to and barely into the bottom of the red oval. In the lower border is what appears to be handwritten text:

"Yours truly

W W Durbin"

Examining this under a magnifying glass shows minor indentations on the signature which would seem to indicate that this was written on the bottom of the card, and not printed.

BACK IMAGE: Large printed number, "43".
DATE: Circa 1920s/30S
SIZE: 2 1/2 by 3 7/16 inches, round corners.


COND: Card has minor use marks. Front of card has loss of color on bottom edge, just reaching into the bottom of the oval with Durbin's photo. Back has glue remnants from album mount. In otherwise Very Good condition.

Read It
Yes
Location
Magic Library (Home)
Condition
Very Fine
Owner
Bryan-Keith Taylor
W.W.Durbin

From Magicpedia, courtesy of Genii Magazine:

William W. Durbin (1866-1937) was a politician, magician and owner of the the American Egyptian Hall Theater and Museum from Ohio. He was elected the first elected president of the International Brotherhood of Magicians and was editor for their Linking Ring magazine (1927 until 1937). With a brief career as a professional magician from 1897 to 1902, William "W.W." Durbin was better known as a lawyer and politician in Ohio. He claims he was offered by Kellar to be his successor before it was given to Thurston. The highlight of his political career was a plum appointment by FDR to serve as Registrar of the U.S. Treasury. Applying his political savvy to the magic arena, he became the first elected president of the International Brotherhood of Magicians and an editor for the Linking Ring (1927 until 1937). He also wrote a series entitled "My life in Magic" for the magazine just before he passed away. Durbin created a tiny Egyptian Hall theater in his home, launched the first magic convention and was an avid, if careless, collector of magic memorabilia. His collection (which he started in 1895) became the nucleus of the Egyptian Hall Museum collection, later stewarded by magic historian David Price, in 1953. Durbin also bestowed a great gift on magic collectors -- to entice top performers -- such as Downs and Cardini -- to appear at I.B.M. conventions, Durbin subsidized the creation of attractive window cards, usually featuring photos of the performers and artwork from their lithographic posters. These beautiful creations have become highly prized by collectors. His act was described in Holden's Programmes of Famous Magicians. IBM Ring No. 71 in Ohio is now called the W. W. Durbin Ring in his honor.