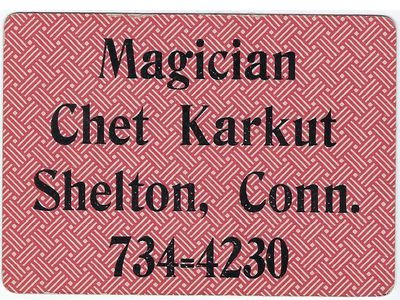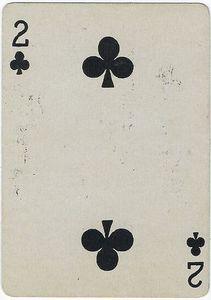 Karrell Fox - Throw Out Card
In Collection


#2043
10*
Conjuring
Ephemera, Magician / Actor
Membership Card 
Chet Karkut Throw Out Card-Red Basket Weave Back

Chet Karkut Throw Out Card
FRONT: Two of clubs
BACK: Red Basket Weave Back pattern with bold text: "Magician Chet Karkut
Shelton, Conn.
734-4230"

DATE: Cir a 1970s/80s ??

SIZE: 2 1/2 by 3 1/2 inches.

COND: Minor use and age marks. All in otherwise very Fine, almost Mint condition.



Read It
No
Location
Magic Library (Home)
Condition
Very Good
Owner
Bryan-Keith Taylor
From Magicpedia, courtesy of Genii Magazine:

Chet Karkut (1915-1996), a policeman by trade, was a semi-pro magician and collector.

Karkut was a close friend with Al Flosso, Jack Chanin, Walter B. Gibson and Joseph Dunninger.
As a collector he specialized in items by Theodore DeLand.
He was a guest of honor at the Fifth Magic Collectors' Weekend in 1974.
Karkut retired in 1975 as Chief of Detectives in his hometown of Shelton, Connecticut.

He was one of the founders and Dean of the Frederick Eugene Powell IBM Ring 59, a long-time member of the Magic Collectors Association, the Magicops, Magicians Alliance of Eastern States and a Charter, Honorary Life Member of the New England Magic Collectors Association.