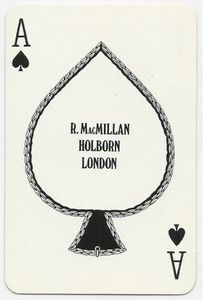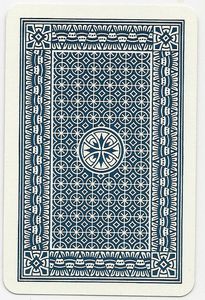 R. MacMillan Hollborn - Throw Out Card
In Collection


#1859
10*
Magic
Memorbilia, Ephemera 
R. MacMillan, Hollborn, London-Ace of Spades Throw Out Card ( c.Late 20th Ct )

This is throwout Card R. MacMillan, Hollborn, London, probably Ron MacMillan.
FRONT: "R. MacMILLAN / HOLBORN / LONDON" in large center spade pip. Ace of Spades pips in corners.
BACK: Blue playing card pattern
DATE: Late 20th Century
SIZE: 2 1/4 by 3 1/2 inches, round corners.
COND: All in otherwise very Fine, almost Mint condition.

Read It
No
Location
Magic Library (Home)
Condition
Very Fine
Owner
Bryan-Keith Taylor
From Magicpedia, Courtesy of Genii Magazine:

Ron MacMillan (September 20, 1932 - January 26, 2005) traveled the world as the "Man with the Golden Hands". MacMillan started magic while in the hospital at 18 when he was bored and suffering from tuberculosis. His nurse Teresa, who gave him a magic book, became his wife. MacMillan won the International Brotherhood of Magicians British Ring Shield at Scarborough in 1957. He routine "Symphony of the Spheres" produced 14 billiard balls from around his body. He won second place in Manipulation category at the 1961 FISM in Switzerland.Ron opened International Magic in London in 1962. He worked in the shop by day and performed magic at nightclubs and variety shows by night.In 1972, he started the annual International Magic Convention. It is still affectionately known as "Ron's Day" and is now run by MacMillan 's family and close friends. MacMillan did his last show in Fort Lauderdale, Florida, in 1993.